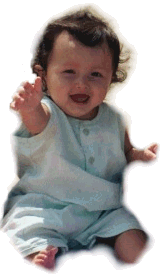 I'm 22 years and 11 months old, I was born
October 26th, 2000, at 8:31 A.M.,
and weighed in at
6 pounds and 13 ounces. My nickname is now "cutie pie", and sometimes "onery". My Indian name is "Hayu" (hey you), usually followed by "get back here!"
I learned to crawl at about 10 1/2 months, and now I'm all over the place. My favorite place to crawl is up the stairs, which I can do by myself, but I usually have someone follow me up. I usually wait on the 3rd or 4th step to make sure someone is following me.
I love doggies -- which happens to be the first word I said that I attached to something -- and I can growl like one, pant like one, and even make slurping noises like one.

I had my first birthday party 21 years and 11 months ago! Click here for details.

Check out how much I look like grandma Abercrombie!