We are having our wedding and reception at Chateau La Cresta,
located at the Mountain Winery in the Saratoga foothills,
on the joyous day of
Sunday, August 22, 1999.
---
The itinerary is as follows:
10:30 — Wedding Ceremony, prenuptial, list of expectations, etc.
11:00 — Hors d'oeurves. Guests are invited to mingle, roam the premises, raid the wine bar, down the hors d'oeurves, get dazzled by the magician, and get thrown in the pool; all while the bride and groom get their mugs shot.
12:00 — LUNCH!!! We'll be having chocolate covered ants. Well... how about roasted chicken and grilled salmon. And for those who won't eat ants, chicken or fish, we have a vegetarian alternative.
1:30 — First dance & magic show. While the bride and groom share their first dance together hitched, the magician will perform a half-hour show in the "kids area" (big kids are welcome as well).
1:40 — The money dance. For those of you who aren't familiar with this tradition, guests are invited to dance with the bride and groom, and pin dollar bills on them before the dance. $1's are okay, $100's would be nice ;-)
2:00 — Dancing. Boogie down with DJ Felix Robinos from Island Breeze.
2:10 — Cake cutting. You're not gunna smear that on me, right honey?
2:30 — Bouquet toss. Okay, who's next?
2:35 — Garter toss. Chewing off of the garter, followed by throwing of a soggy garter.
2:40 — More dancing.
3:30 — Limo pickup. The couple will be whisked away in a limousine. Do you think they can sneak out?
Throughout — Magician. We'll have a magician come and keep us all entertained. He'll be performing various card tricks, and other illusions. He'll probably be keeping the kids distracted, but I'm sure a few "older" kids will get sucked in.


Be sure to wear comfortable attire, the entire event will be outdoors.
There will be plenty of shade, but August is usually into the 90's, so if you bring a tie and coat, you'll likely want to shed them at some point. Boy, wouldn't that be great if everyone wore shorts? (No mom, we're not wearing shorts. ;-)
Chateau La Cresta overlooks the entire Silicon Valley from the Saratoga foothills, and is facing the sun in the afternoon.

---
Directions: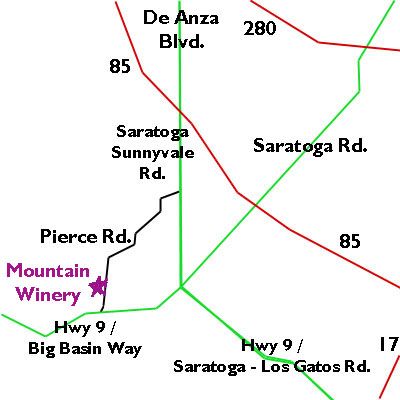 Get to the downtown Saratoga area, known as Big Basin Way, or Hwy 9. From there, head south towards Big Basin, but before you get to Saratoga Springs, you'll make a right onto Pierce Road. About a mile or so, you'll come to a well marked rod-iron gate marked "Mountain Winery", at the top of the mountain (or as they'd say in Utah "hill").
Come in, drive around the twisted path, and park as far up the hill as you can. To the right you'll find a path leading towards the winery.
directions (from Chateau La Cresta's web site)
map from yahoo